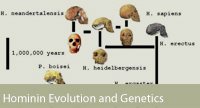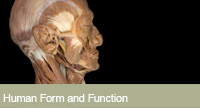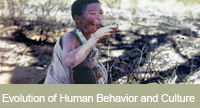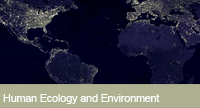 Requirements for the Minor
The minor consists of seven courses, at least four of which must be at the upper-division level (3000 or above). Four of the seven are core courses (one from each of the areas listed below) and three are electives. A minimum grade of a C is required in all courses taken for the minor.
The electives must be taken from at least two of the 4 areas. Courses listed as core courses may also be taken as electives. Complete requirements are described on the IHB minor worksheet.
Hominin Evolution and Genetics
Core course:
ANTH 1020 Human Origins: Evolution and Diversity, or
ANTH 4252 Human Biology
Electives:
ANTH 1050 The Evolution of Human Nature
ANTH 2020 Human Evolution
ANTH 4261 Paleoanthropology
ANTH/BIOL 5221 Human Evolutionary Genetics
ANTH 3331 Pleistocene Archaeology
ANTH 4281 Primates
BIOL 2210 Human Genetics
BIOL 3410 Ecology and Evolution
BIOL/ANTH 5471 Quantitative Models in Evolutionary Ecology
BIOL 6420 Genetics and Genome Organization
Human Form and Function
Core course:
BIOL 2325 Human Anatomy, or
BIOL 2420 Human Physiology

Electives:
ANTH 4133 Maternal and Child Health
ANTH 4271 Human Osteology
ANTH 4272 Forensic Anthropology
ANTH 4291 Evolution of Human Health
BIOL 3310 Comparative Vertebrate Morphology
BIOL 3320 Comparative Physiology
BIOL 3330 Behavioral Neurobiology
BIOL 5315 Advanced Human Anatomy

Evolution of Human Behavior and Culture
Core course:
ANTH 4461 Behavioral Ecology and Anthropology, or
ANTH 4481 Evolutionary Psychology
Electives:

ANTH 2018 Human Universals
ANTH 4150 Evolution of Societies and Cultures
ANTH 4138 Anthropology of Violence and NonViolence
ANTH 4183 Sex and Gender
ANTH 4184 Hunter-Gatherer Ethnology
BIOL 3430 Behavioral Ecology
BIOL 5320 The Biology of Aggression

Human Ecology and Environment

Any of the following courses will satisfy the core course requirement in this area.

ANTH 4186 Human Ecology
BIOL 3410 Ecology and Evolution
BIOL 3460 Global Environmental Issues
BIOL 5440 Urban Ecology
BIOL 5490 Ecosystem Ecology